WP ERP- The First WordPress Powered Enterprise System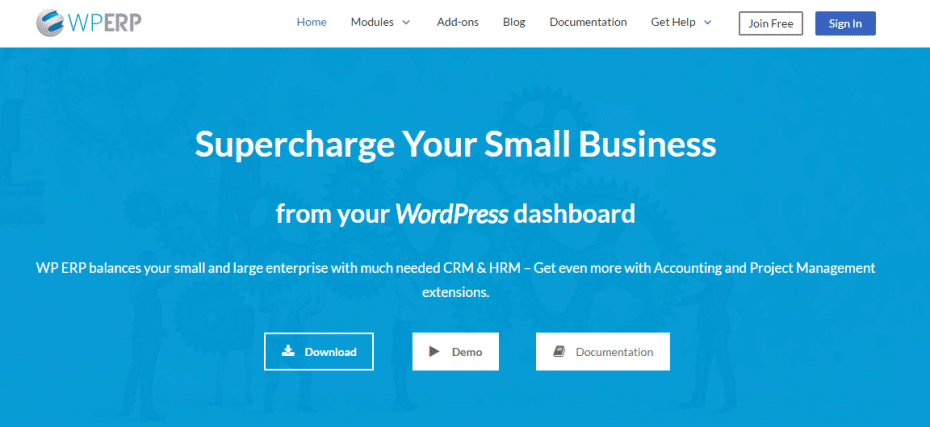 Enterprise Resource Planning also known as ERP is one of the most popular software used by small and medium sized businesses. It helps to manage the overall operation of the company. Most of the modern companies have ERP which makes things easier.
The core operations such as HR, CRM, Accounting, Stock, Production etc. can be managed with the help of ERP system. In this modern era of technology, everything is becoming automated. This has made everything cloud based. Cloud is a metaphor used to indicate the Internet.
In the last decade, desktops based software were very popular. After realising the power of the cloud, all the software are turning out to be cloud compatible. ERP is not different from this.
Cloud ERP is becoming very popular due to lots of advantages. In this context, people are innovating new ways in which ERP can be used more easily.
With this vision, weDevs have targeted WordPress, which is one of the most popular and widely used CMS around the world. They have introduced a full-featured ERP system that is powered by WordPress.
Now, small and medium-sized businesses will be able to use ERP systems using just their website. Most importantly, they can get the core features for free using WP ERP.
WP ERP is available for download at wp.org. You can get is for free without paying anything. You will get the following features with the free version.
Human Resource Management
WP ERP has three core modules. HRM is one of them. Using this module, you can easily manage your overall human resource operations. You will be able to manage your employees, sent announcements, manage employee leaves, contact employees, assign to tasks and schedule meetings.
You can get more options with add-ons which can be purchased from www.wedevs.com. These add-ons will provide you different types of useful features such as recruitment, asset manager, inventory management, document management etc.
The recruitment add-ons is a fully featured plugin that can help you to recruit employees. You can schedule interviews, take exams, view recruitment density, predefine biographies, view workflow, view recruitment status, hire and import employees directly to your HRM and much more.
With the attendance add-on, you can manage your employee attendance. Besides that, you can also export or import attendance data from biometric machines to this plugin. You will also have access to create reports on employee attendance.
Customer Relationship Management
CRM is another core module of WP ERP. With this module, you can easily manage your customers. It has features including scheduling calls, meetings, emails, SMS to your customers. Segment customers according to different roles, prepare reports, assign employees to specific customers, and send emails etc. can also be performed directly from this module.
There are also some add-ons that can enhance your CRM experience. You can import contacts from MailChimp and Hubspot directly to your CRM. The email campaign can help you sent emails to a large number of customers easily. You can create custom newsletters, emails, offers and much more using this add-on.
Accounting
The third core module of WP ERP is accounting. You can easily manage your overall financial factors using this module. This module is very easy to use, even people with zero accounting knowledge can use it without facing prior problems.
You can process real-time transactions using this module. Besides that, you can receive payments and create invoices using this module. Managing your bank accounts will become easier than before using this module. Finally, you can create different types of reports effectively.
There are useful add-ons that can help you to manage your accounting more accurately. You can purchase the asset manager add-on. It can help you to manage your assets. You can allocate your assets to your employees more easily and make sure they are returned within allocated time.
As you can see, WP ERP is a very useful piece of tech for your business. You must try it out. In addition, it is completely free. You can use it for managing the core operations of your business. You can also easy everything up and boost your business with handy add-ons. It is the best WordPress ERP System!